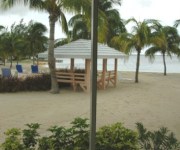 Kaibo Yacht Club # A4 MaiKai
Nicely adorned 2 bedroom, 2 bathroom condo in Building B in the second phase of Kaibo Yacht Club in tranquil Cayman Kai. This condo has a king size bed in the master bedroom, 2-twins in the second bedroom (that can be optionally converted to a king size as well) and a queen sized sleeper/pull out sofa in the living room. It sleeps 6 maximum.

Max Guests: N/A
Bedrooms:5 bedrooms
Location: Cayman Kai/Rum Point area, Grand Cayman


Property: MaiKai - Rum Point

Rental Prices
Winter Nightly: $350 US Per Night

Summer Nightly: US$225 Per Night

Bedrooms: 2 bedrooms

Bathrooms: 2 Bathrooms

Maximum Guests: N/A
Nicely adorned 2 bedroom, 2 bathroom condo in Building B in the second phase of Kaibo Yacht Club in tranquil Cayman Kai. This condo has a king size bed in the master bedroom, 2-twins in the second bedroom (that can be optionally converted to a king size as well) and a queen sized sleeper/pull out sofa in the living room. It sleeps 6 maximum.
The kitchen, dining and living rooms are an open floor with views straight through to the pool and beautiful Caribbean Sea and the north sound of Grand Cayman. The kitchen is fully outfitted with all applicances including a stackable washer/dryer unit and BBQ grill on the patio for guests' use. The screened patio affords lovely sunset views.
The arrival info for all the Kaibo Condo properties is basically the same and can be taken from the current website and I have made some additions:
How To Find It: Departing the airport take the following: Owen Roberts Drive past the Post Office, and turn left unto Dorcy Drive at the 3-way stop. Follow Dorcy Drive out to Crewe Road (past Fosters Food Fair; road paralleling the runway). Take a left unto Crewe Road and stay on this road as it is the main road that runs throughout the island. You will be heading east. Take this road through Bodden Town towards Breakers, after about 25 minutes, there is 3 way junction, take left heading towards North Side and follow this main road for another 15 minutes through the district of North Side and out towards Cayman Kai/Rum Point area (heading north and then northwest). Proceed towards the Kaibo Yacht Club, veering left at the fork near Rum Point Club, proceed driving past the Kaibo Yacht Club Marina and Restaurant, condo complex is on the left.
Area Description: Located in the exclusive resort community of Cayman Kai on the North Side of Grand Cayman. This community boasts some of the most luxurious and opulent homes and villas within the Cayman Islands. A 45 minute drive from the Owen Roberts International Airport in George Town, this area is tranquil and away from the busy tourist strip on Seven Mile Beach or the bustle of the commercial and business centre in George Town.